About our company
Our company was founded in 2000 from a vision to improve and provide a better quality and more efficient cold water boosting systems and become a leader in the market with the innovation of the original Aquabox cold water boosting System.
In early 2000, Tadhg Barry of Southern Pumps noticed a new requirement in the domestic and commercial water Booster Pump market for a solution to provide good water pressure throughout a plumbing system,
Tadhg noticed that there were some crude poorly assembled open storage tanks with low-cost plastic submersible pumps being offered as a solution, this prompted Tadhg to come up with a high-quality solution.
In early 2001 we launched our very first Aquabox, manufactured with an enclosed Rota Moulded Potable Water Storage Tank, a 5 Inch Submersible Booster Pump and an Automatic Controller.
This new and innovative solution very quickly gained support from local contractors and merchants alike. We very quickly gained penetration in the market for this new product which provided a quick and easy install for the plumbing contractor. The volumes for this product grew very rapidly from then on.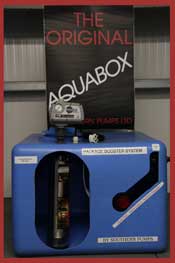 Aquabox
Domestic and commercial package booster systems complete with submersible booster pump and storage tank suitable for potable water We have a range of tank and pumps sizes to cater for all needs
Aquabox New Era (Xylem Inside)
In early 2012, Aquabox and Xylem entered into a new partnership, this was an important
step in the evolution of the Aquabox with opportunity to use the Lowara WRAS
approved Scuba 5 Inch Submersible range, we now have the only unit on the market
manufactured with all components carrying approval for use with potable water.
With this partnership, we increased the offering to a much wider range of
tank volumes and shapes from 180 litre up to 1000 litre, we also opened a purpose built
manufacturing facility offering quick turnaround on orders, direct site
deliveries for volume orders, bespoke units with Variable Speed and Duty Assist pumps
for Sport Halls, large B&B's, small Hotels etc. Innovation is at our forefront and we provide multiple options on unit capacities, sizes and shapes as a solution to every application.
We also claim that our standard unit is the most efficient on the market with the pump consuming just 550 watts which is both efficient and environmentally friendly.
In conjunction with all of the above, we also offer an unrivalled technical backup and
after sales service, with dedicated staff and a service vehicle on the road 5 days a week.
With the growth and demand for the Aquabox over the years it now supports 6 full time staff. We also support jobs by sourcing as many of our materials in Ireland used in the manufacturing of an Aquabox. Aquabox is a premium brand offered at a competitive price and we offer quick reaction to market demands along with continuous upgrades in pump technology with full factory support from our partners Lowara in Italy.
Since we launched the Aquabox in early 2001 we have many multiples of units installed nationwide, and many happy customers.
We would claim to be the one of the marked leaders with this product and we continue to innovate and develop the product to provide solutions to cold water boosting.